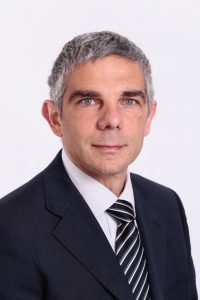 Emanuele Menegatti is Full Professor of the School of Engineering at Dept. of Information Engineering of University of Padova since 2017.
After his graduation in Physics in 1998, he received his MsC in AI & Robotics from the University of Edinburgh (UK) in 2000. Menegatti received his Ph.D. in Computer Science in 2003 from Univ. of Padua. In 2005 he became Assistant Professor and Associate Professor in 2010.
Menegatti's main research interests are in the field of Robot Perception. In particular, he is working on neurorobotics, RGB-D people tracking for camera network, and service robotics.
Menegatti is Associated Editor of the journals: "Robotics and Autonomous Systems" (Elsevier), "IPSJ Transactions on Computer Vision and Applications" (Springer), "Frontiers in Neurorobotics" (Frontiers), "International Journal of Advanced Robotic Systems" (Sage).