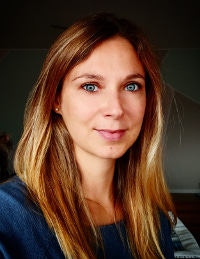 Giorgia Cona, PhD, is Associate Professor at the University of Padova, Department of General Psychology.
She received a Master's degree in Experimental Psychology and Cognitive Behavioural Neuroscience (110/110 cum laude) in 2008 at the University of Padova. She earned a PhD. in Psychobiology in 2012. She spent a period abroad in 2011 working at the University of Toronto, in the Morris Moscovitch's Lab.
From 2012 to 2016, she had post-doc positions at the Department of Neuroscience and the Department of General Psychology (University of Padova). In 2017, she become lecturer (RTDa) at the Department of General Psychology.
In 2012, she received the Young Researcher Award from the AIP (Associazione Italiana di Psicologia). In 2019, she won a grant from the University of Padua, the STARS Starting Grant, with a project titled: "Trade-offs in human Behaviour and Brain: a (r)Evolutionary approach" and a grant from the Italian Ministry of Health (Bando Ricerca Finalizzata) with a project focused on the Effectiveness of attention/executive functions training on prospective memory abilities of Parkinson's disease with a combined immersive Virtual Reality and Telemedicine approach.
She teaches Neuropsychology of Aging, Human Electrophysiology and Non-Invasive Brain Stimulation techniques at University of Padua
She has authored more than 30 peer-reviewed articles in international scientific journals, 4 book chapters, organized various symposia and international workshops, and has been invited as a speaker in several national and international conferences and research institutes.
She is expert in EEG and TMS techniques; her research interests involve:
Neural mechanisms of cognitive processes (i.e., prospective memory, spatial processing, temporal processing; reward-related processes, cognitive control).
Commonalities and differences in brain and behavior across individuals
Cognitive neuroscience and sport
Google Scholar profile: https://scholar.google.it/citations?user=cT-WHyIAAAAJ&hl=en
Research gate profile: https://www.researchgate.net/profile/Giorgia_Cona
Aging
,
Attention, Perception and Action
,
Behavioral and Neuropsychological testing
,
Brain behavior mapping
,
Circuits and Cellular Neuroscience
,
Circuits Neuroscience
,
Cognitive and Brain Development
,
Cognitive, Affective and Behavioral Neuroscience
,
Computational Neuroscience
,
Dept. of General Psychology (DPG)
,
Electrophysiology and Optical Imaging
,
Language, Memory and Cognition
,
Neuro-stimulation
,
Neurodegeneration
,
Neuroscience Methods
,
People
,
Psychophysiology
,
Translational and Clinical Neuroscience