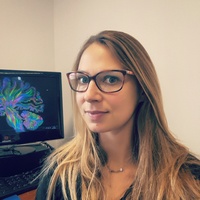 Giorgia Cona, Ph.D, is a lecturer (Ricercatore di Tipo A) at the University of Padova, Department of General Psychology.
She received a Master's degree in Experimental Psychology and Cognitive Behavioural Neuroscience (110/110 cum laude) in 2008 at the University of Padova. She earned a Ph.D. in Psychobiology in 2012. She spent a period abroad in 2011 working at the University of Toronto, in the Morris Moscovitch's Lab.
From 2012 to 2016, she had post-doc positions at the Department of Neuroscience and the Department of General Psychology (University of Padova).
She is expert in EEG and TMS techniques. She holds an advanced course for scientific research in EEG analysis (Corso CARS) and a course in Noninvasive Brain Stimulation. She teaches also Neuropsychology of Aging.
Main research interests:
– Neural mechanisms of cognitive processes (i.e., prospective memory, spatial processing, reward-related processes, cognitive control).
– Commonalities and differences in brain and behavior across individuals
– Cognitive neuroscience and sport
Research gate profile: https://www.researchgate.net/profile/Giorgia_Cona