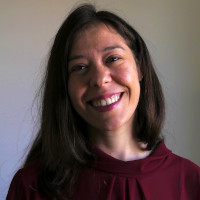 Elisa Greotti is Research Scientist at the Neuroscience Institute of the National Research Council in Padova.
Over the last years, I have been involved in studying calcium (Ca2+) signaling in both health and disease. My research focused on the development of new tools to explore the mitochondrial functionality, generating both genetically encoded Ca2+ indicators and a new mitochondria-targeted channelrhodopsin. These methodologies are instrumental for addressing with novel approaches the role of second messenger heterogeneity in different pathophysiological conditions not only in cell cultures, but also ex vivo and in vivo.
Currently, I am interested in studying the role of organelle Ca2+ dynamics in pathophysiology, with a special focus on Alzheimer's disease.
Scopus: https://www.scopus.com/authid/detail.uri?authorId=55838884900&origin=AuthorEval