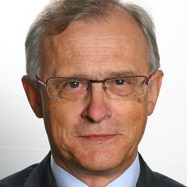 Alessandro Martini is Full professor of Otorhinolaryngology, Padova University School of Medicine.
Previous Chief of ENT and  of Padova Hospital Neurosciences and Sense Organs Department; previous Director Universitary Neurocience Dept. and Bioacoustic Laboratory, University of Padova.
Major Research Interests
Genetic causes of deafness and on malformation pathology of ear, cochlear implants and implantable prothesis. Principal Investigator in many Italian and European research projects (HEAR, GenDeaf, RegenEar).
In the Laboratory of Bioacoustics is carried out a research on molecular and in vitro cellular on neuronaland resulting organ of Corti cell lines, in order to analyze the causes of hearing disorders and correlated therapies.
The research team has already had experience in studies of cell regeneration in the inner ear, and since long time have already been studying the mechanisms that modulate the ototoxic damage and protection from it, using a tissue neurosensorial progenitor cells supplied from House Ear Institute in Los Angeles.
The principal areas of interest are the following: Ototoxicity and ear protection. In our laboratory we will perform toxicity and protection tests on both hair cells that neuronal population involved in transduction of auditory signal.
Regenerative medicine. The center has been involved, as the only Italian partner, in the study and experimentation about the possible regenerative activity of the organ of Corti in an Italian- English project. Currently it also collaborate with the research group of Dr. M Rivolta (Centre for Stem Cell Biology, Department of Biomedical Science, The University of Sheffieldper, UK) for the engineering of human stem cells.