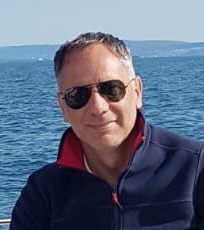 Filippo Romanato is Associate Professor at the Department of Physics "Galileo Galilei" of the University of Padua.
He leads of the local Nanodevices group. http://groups.dfa.unipd.it/nanodevices/index.html
Past positions
• 2008 – 2019. Director of Laboratory for Nanofabrication of Nanodevices (LaNN). http://www.lann.it/
• 2014- 2019. Group leader of the biomedical characterization group at the Institute of Pediatric Research – Fondazione Città della Speranza (Padova)
• 2014 -2019. Scientific advisor for SM-Optics (Milan), multinational photonic system industry https://www.sm-optics.com/
• 1998 Senior researcher and associate member of IOM-CNR, and member of scientific committee of the Facility of Nanofabrication at TASC. https://www.iom.cnr.it/lilit-beamline
Education
• 1989 He graduated top score in Physics from the University of Padua in 1989,
• 1994 PhD in Physics in 1994 at Dep. Of Physics in Padua
Professional experience
• 1994-1996 Post doc at Padua University.
• 1996-97 Postdoc at MIT at the Department of Materials Science and Engineering.
• 1997 Postdoc at the beamline of Materials Science at the European Synchrotron ESRF.
• 1998-2007 Resercher at TASC- CNR, beam line scientist and responsible
• 2005-2009 he was Professor at the Nanyang Technological University in Singapore.
Scientific production and activity
• 238 scientific papers published in international journals and refereed conference proceedings.
• 5400+ citations, H-index 34 (source Google Scholar, un 2020);
• 65+ invited talks at international conferences, conferences, workshops, universities and research centers.
• Director/organizer of 3 scientific conferences&workshops.
• He is co-author of 14 international patents.
Scientific interests
• His present activity is devoted to high resolution lithographic and fabrication techniques for the realization of three dimensional nano structures for photonics, plasmonics, and more in general for the development of nanodevices
• Advanced optical microscopy (2-photon, STED, second and third harmonic generation).
• Responsible for tissue decellularization and recellularization LIFE LAB project.
• Responsibe for the optical and nanoptical development of 2 photon microscope components.
• He studied and developed photonic devices based on the orbital angular momentum of the light.
• He is leading projects for the development bioplasmonic sensors, in collaboration with a interdisciplinary team constituted of physicist, chemists, biologists and engineers. Plasmonics is also exploited for photo voltaics applications.
• He designed developed and simulated photonic and nano-optical devices.
• From a methodological point of view he always pursued the possibility to combine new experiment in nanoscience with a model interpretation in view of a rapid application of the results.
• He studied semiconductor epitaxial heterostructures proposing empirical and theoretical models and developing several structural characterization techniques devoted to devices performances optimization and fabrication.
• He get experienced in synchrotron based techniques and for the design of beam lines.
• He was appointed as beam line scientist in charge of the design and realization of X-ray lithography facility at Elettra Synchrotron and he was co-founder of the jointed micro and nano fabrication group.
Other professional activities
• 2012 Co-founder of spin-off company "Twist-off" for the development of the OAM radio technology, based on radio use with angular orbital moment. According to published articles and public experiments as well as to the submissive patent, a telecommunications company financed the spin-off with 650,000 euros for the development of the OAM radio. Beginning November 6th 2013.
• 2008 co-founded of ThunderNIL srl, Nanochallenge award for the best nanotechnology spin-off.
• 2009 co-founder of Protolab srl. spin-off for advanced materials and electronic devices
• 2010 co-founder of Twist-off, university spin-off for wireless telecommunications.
• 2014- 2017, scientific advisor of STRAND srl for fiber telecommunication