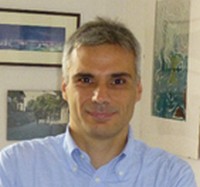 Giovanni Sparacino is currently Associate Professor at the Dept. of Information Engineering in Padova.
He received the MSc (summa cum laude) in Electronics Engineering from the University of Padova in 1992 and the PhD in Bioengineering from the Polytechnic of Milan in 1996.
From 1997 to 1998 he was Research Engineer at the Department of Audiology and Phoniatrics of the University of Padova. Then, he joined the Department of Information Engineering as Assistant Professor of Bioengineering. Since 2005 he is Associate Professor at the same department, where he is presently in charge of teaching "Medical Informatics" and "Biological Data Analysis". At present, he is Full Professor at the University of Padua.
Since 2004 he is member of the Board of Professors of the "PhD School in Information Engineering". Since 2012 he is coordinator of the "Bioengineering" track of the PhD School and, since 2015, he is the School Vice-director. During the academic year 2016/17, he served as Vice-Head of the department.
His scientific expertise includes modeling, deconvolution and parameter estimation techniques for the study of physiological systems, algorithms for continuous glucose monitoring sensors (calibration, denoising and prediction), methods for linear and nonlinear analysis of biomedical signals (fNIRS, EEG, local field potentials, event-related potentials, BCI).
He authored more than 90 regular papers appeared in WoS/Scopus –indexed international journals (Scopus H-index is 24, with 1964 citations) and 7 patents. More information on http://www.dei.unipd.it/~gianni
Contacts:
Prof. Giovanni Sparacino
Department of Information Engineering – University of Padova
Via Gradenigo 6/B
35131 Padova
Phone: +39 049 827 7741
Fax: +39 049 827 7699
e-mail: gianni@dei.unipd.it