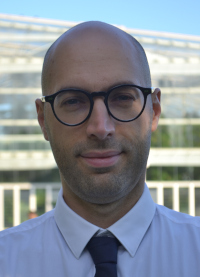 Alessandro Salvalaggio is a neurologist, researcher (RTD-A) at the Department of Neuroscience of the University of Padova.
He graduated in Medicine and Surgery in 2012 and completed his residency in Neurology in 2018 at the University of Padova. He completed his PhD in Neuroscience in 2022 at Padova Neuroscience Center, with a thesis on brain disconnection in focal lesions (stroke, gliomas).
Main interests:
Impact of brain tumors and cancer treatments on clinical outcomes (cognitive and neurological impairment, survival) mediated by structural and functional disconnection.
Neurological complications of cancer.
Transthyretin amyloidosis and peripheral neuropathies.
Scopus: https://www.scopus.com/authid/detail.uri?authorId=56359388100
Google scholar: https://scholar.google.it/citations?user=WwsDAwsAAAAJ&hl=it