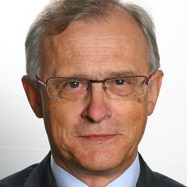 Present position
Alessandro Martini is Full professor of Otorhinolaryngology, Padova University School of Medicine; previous Chief of ENT and of Padova Hospital Neurosciences and Sense Organs Department; previous Director Universitary Neurocience Dept. and Bioacoustic Laboratory, University of Padova.
Major Research Interests
Genetic causes of deafness and on malformation pathology of ear, cochlear implants and implantable prothesis. Principal Investigator in many Italian and European research projects (HEAR, GenDeaf, RegenEar).
In the Laboratory of Bioacoustics is carried out a research on molecular and in vitro cellular on neuronaland resulting organ of Corti cell lines, in order to analyze the causes of hearing disorders and correlated therapies.