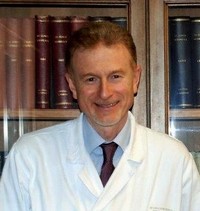 Stefano Masiero is Full Professor in Physical Medicine and Rehabilitation at the University of Padova.
Present position
Director of the Physical and Rehabilitation Medicine School at the University of Padua.
Chair of Rehabilitation Unit at the Padua University-General Hospital.
Director of Laboratory of Robotic and Bioengineering and Clinical of Movement of Padua University-General Hospital.
Postgraduate Diploma in "Epidemiology and Medical Statistics" at the University of Verona.
During his career, he received several academic awards and funding and published over 200 peer reviewed manuscripts including some book of Physical Medicine and Rehabilitation.
Major Research Interests:
– Neurorehabilitation with robot-therapy, neurostimulation, etc. in post-stroke subjects
– Functional Electrical Stimulation (FES) in Neuromusculoskeletal disorders
– Assessment in Neuromusculoskeletal disorders (gait analysis study, Morphometric analysis, etc.)
-Study of Neurophysiological effects of the exercise in neuro-musculoskeletal disorders
– Aquatic therapy and hydrotherapy in neurological diseases (Parkinson disease)