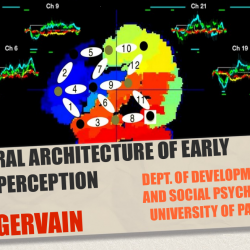 by prof. Judit Gervain, Dept. of Developmental and Social Psychology, University of Padova
When: February 3rd, 2022 – 3:00 pm
Where: Zoom meeting
Abstract: Despite their general immaturity, human infants have sophisticated auditory and speech perception skills. This talk will present EEG and NIRS studies with newborns and older infants investigating the neural mechanisms underlying these abilities. The studies investigate how embedded neural oscillations, hypothesized to be crucial for speech processing in adults, emerge during early human development.
The talk will discuss the implications of these findings for language development.
Short bio: Judit Gervain is a Full Professor at the Department of Developmental and Social Psychology.