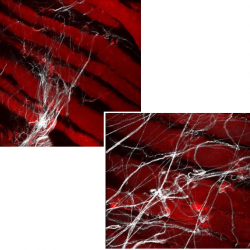 A call for admission to a Research Grant in bio-optics, microscopy, nano-optics (curriculum in physics, biotechnologies, materials science, biophysics) is open at the group of Nanodevices of Dept. of Physics and Astronomy.
Title of the project
Two photon microscopy for the study of tissue recellularization.
Abstract of the project
The innovative branch of Regenerative Medicine intends to restore the physiological function of damaged or diseased tissues by stimulating repair processes. The grant is proposed within the framework of LIFE LAB that is a large interdisciplinary project that aims at regenerating whole organs, such as the heart, lungs, liver and kidneys as well as by reconstructing tissues.